So I am linking up... for the first time.. with the crazy cool Farley at Oh' Boy Fourth Grade.. for a currently post. YAY!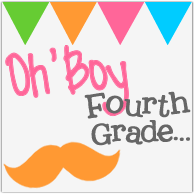 Today was a dance around the house kind of day. As I was cleaning. Ok, maybe instead of cleaning, but I thought about cleaning while I was doing it, so that counts right?
Report cards are due in about two weeks. SERIOUSLY. I cannot believe how fast the year is going. So I guess I should be doing that, and not blogging. But I think I will just keep blogging.
I don't know if it is the all over the place weather or what, but I have been so sore lately. Nothing that some yoga couldn't fix though.
On our social studies CD, there is a song about garbage. When I turn it on, the kids perk up, and start cleaning up immediately. So that is one of my favourite songs in the classroom!
Mrs. Dunn